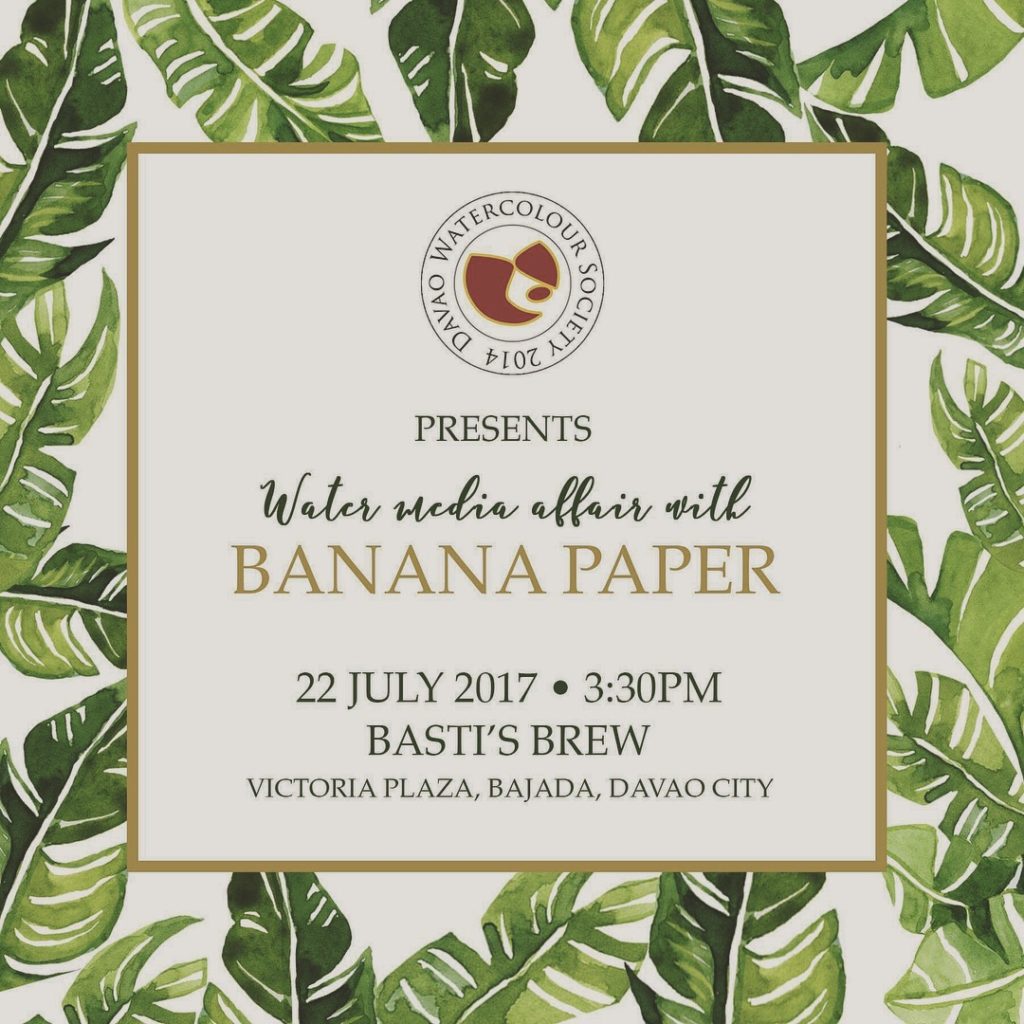 Just like that… 2 years had past… Either I blog really slow (yes, that's 1 part true) or time really flies so fast (which is also the other part true).
Anyway, back when I was younger, I wanted to be a painter (I shared that journey when I took the Art Kamp). When I finally took a painting class, the next goal I have in mind is to have a solo exhibit.
That art class was 2015… days, months and years had passed… I painted and drew less. Maybe a little bit of crafting and drawing every now and then. Basically, the dream of having that art exhibit remained as a dream. "Someday…" an excuse I always tell myself. Although, I keep playing with watercolour whenever I get a chance.
One Tuesday, a friend of mine, who's also a watercolourist, Bang-bang, invited me to join their group Davao Watercolour Society DWS' weekly meeting at Basti's Brew.
There I met her mentor, sir Lito Pepito and few of the members. I was intimidated at first because this group was not a crafting nor beginners club. Mostly, old-timer masters who painted way before watercolor was a trend. Surprisingly, everyone was so warm and welcoming. Sir Lito was so funny and very talkative. Unusual for an artist's stereotype actually. And if you've heard of the International Watercolour Society or IWS, DWS is like a chapter group of that.
Anyway, a few meetings after, he mentioned that we will be having an art exhibit using banana paper. And boy, can you imagine how big my eyes grew when I heard that? I can't believe it is a stepping stone to my dream. Then, of course, I presented to design the stationery and watercoloured the banana leaf as elements.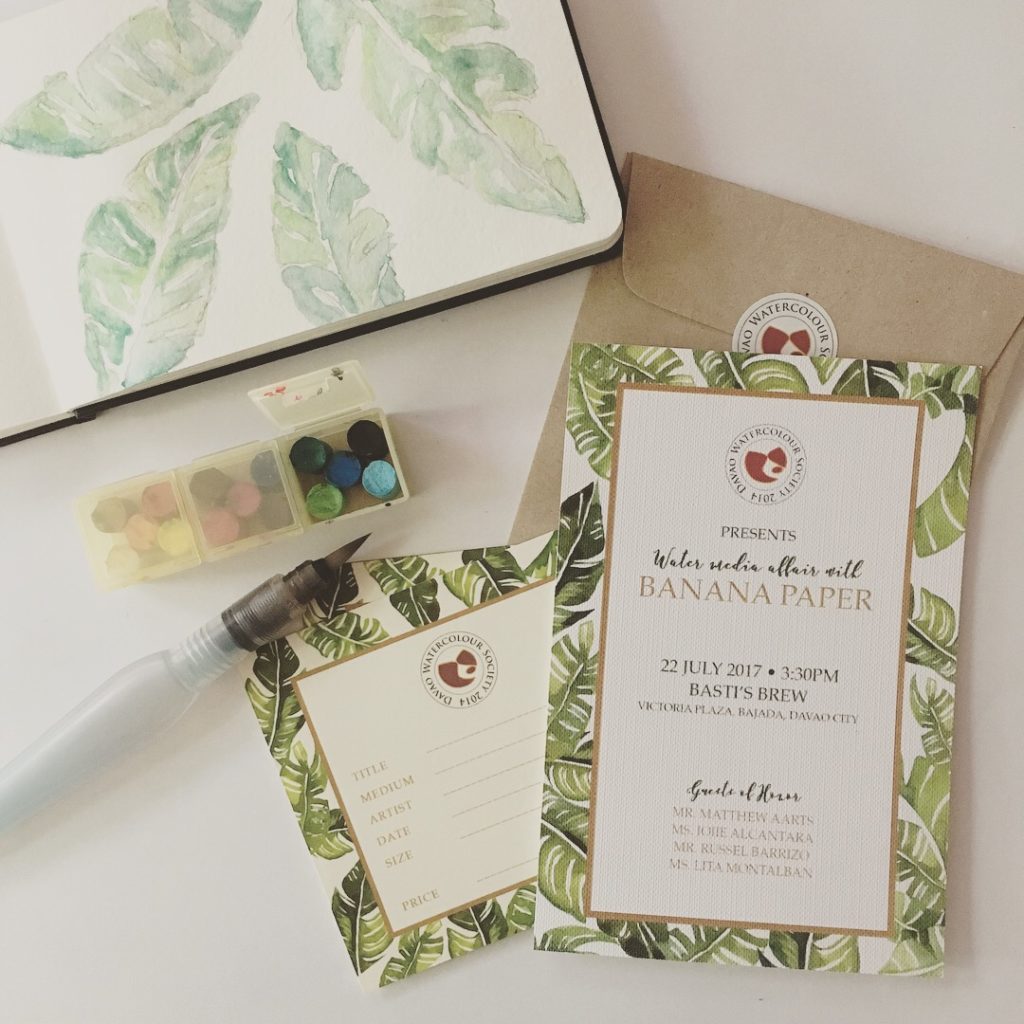 We were given enough time to prepare and make our paintings. Like, 3 months to plan whatever subject we wish to paint as long as we use banana paper and watercolor and gouache as our medium. I even planned ahead of time. But I couldn't decide which subject to paint until I had 1 week (less 1 day for framing) left to paint an 18×24 and 12×18 inch banana paper. Plus procrastinating in between. Wow! Talking about working under pressure.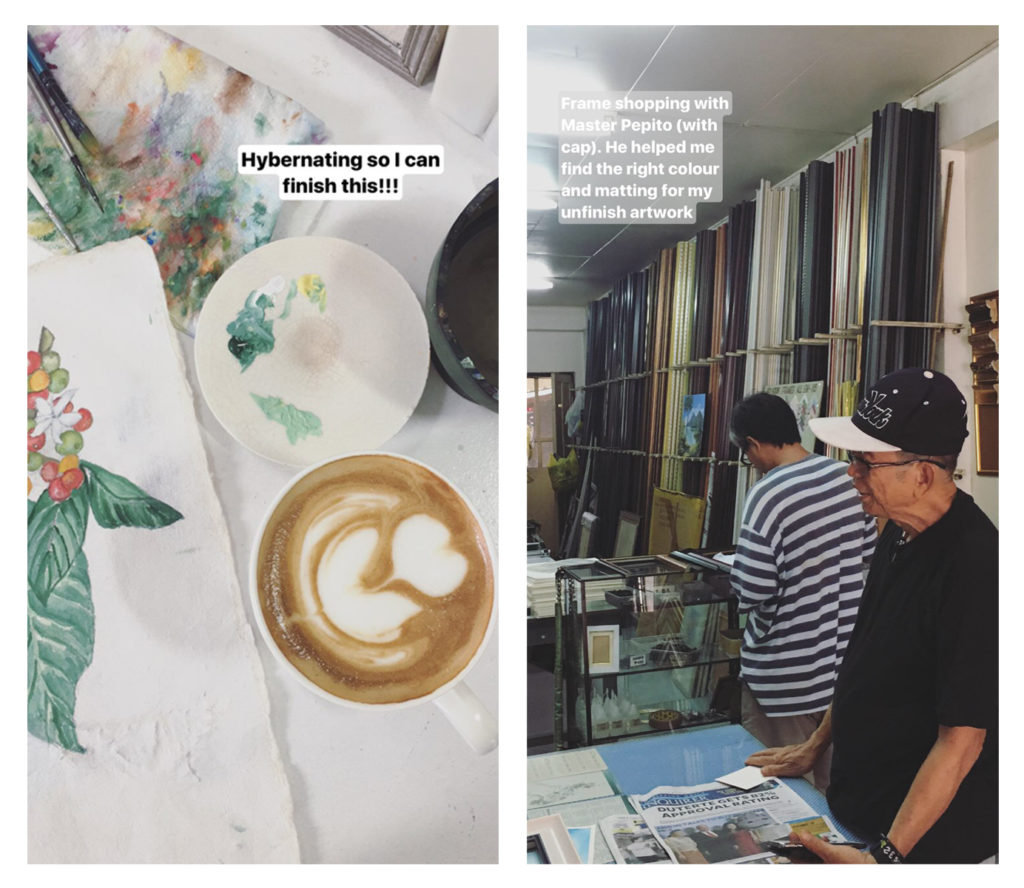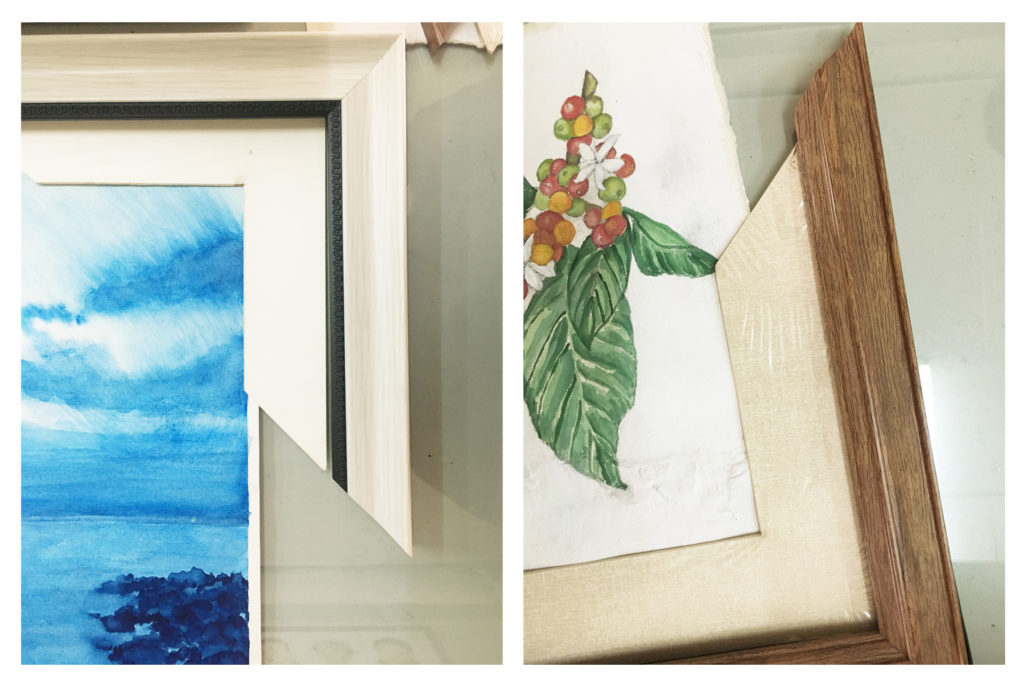 Aside from painting, we need to make a brief artist profile. I think I find this more difficult to make than painting. I always struggle with words, moreover if it's about me. Gladly, I can always count on Wacky to deal with words for me.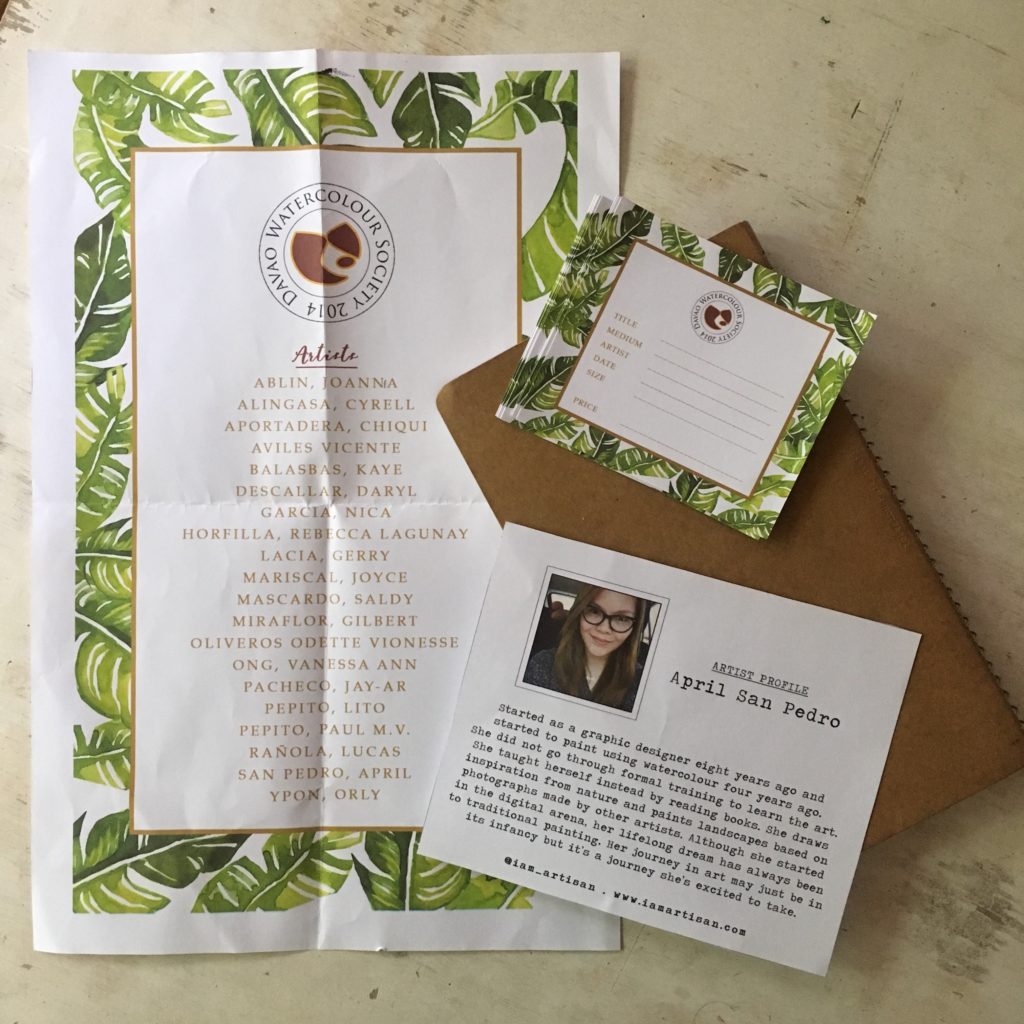 Just a day before the exhibit, I got my framed paintings. The very first paintings that was framed. I was totally teary-eyed when I saw them. Call it over-acting but seriously, it looks so better when framed.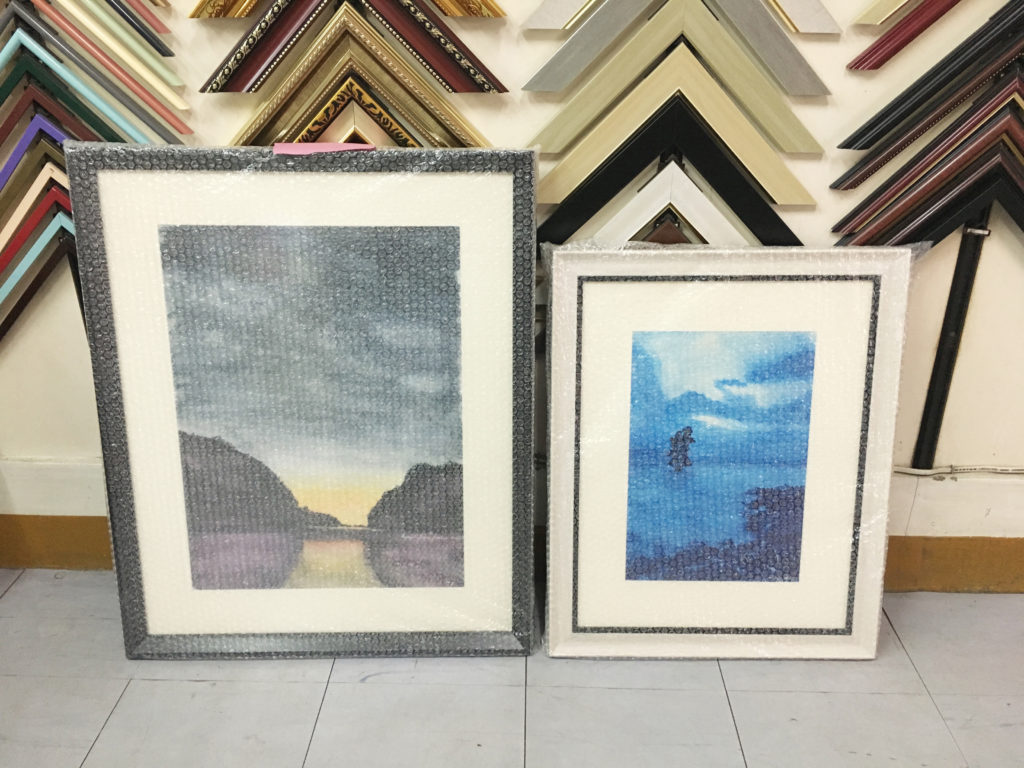 When I got home, I had few hours left before I can savour my babies because I had to deliver them at Basti's Brew for display. So, I placed them on the floor of my room to have a better look at them. I can't imagine how they look so different with frames. I felt so legit, hehe.
Wacky was in Manila at that time, so I kept telling him and my sister, Sandy over the phone how nice the paintings looked.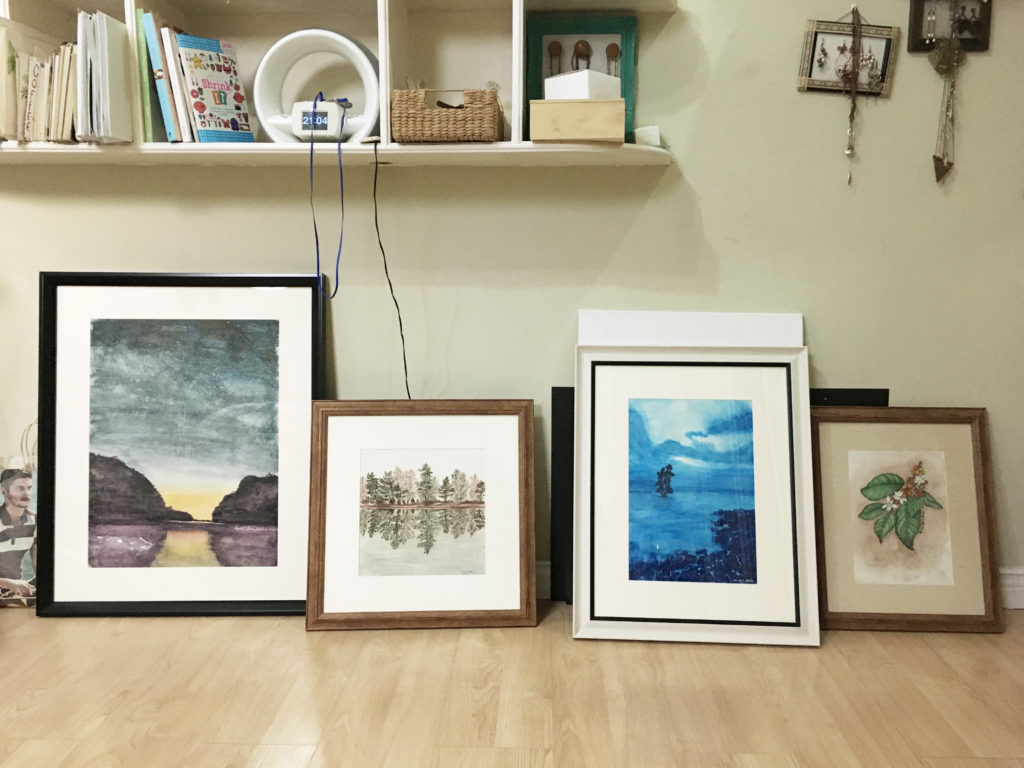 The next day, it's already "the day when my dream of an art exhibit" was finally happening. It's funny that my excitement felt like it's a solo exhibit but the truth, I was only one out of many artists who joined, hehe.
The exhibit was held at the function room of Basti's Brew. The paintings that were painted on banana paper were displayed inside. While the other watercolour paintings were hanged all over the cafe.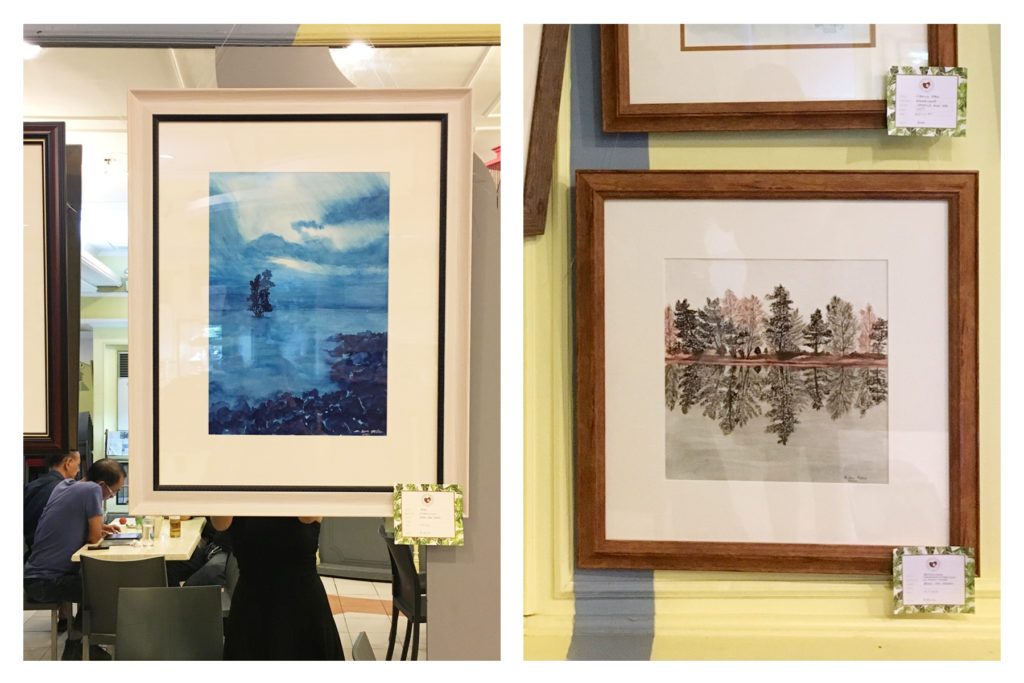 Let me share the people who went there and some of the artists.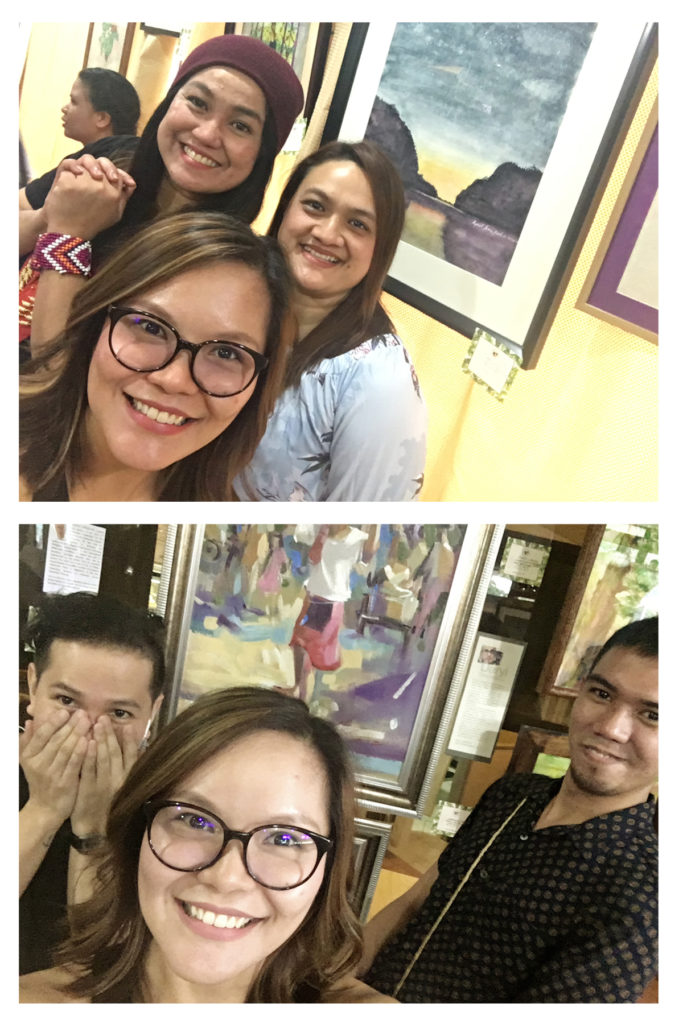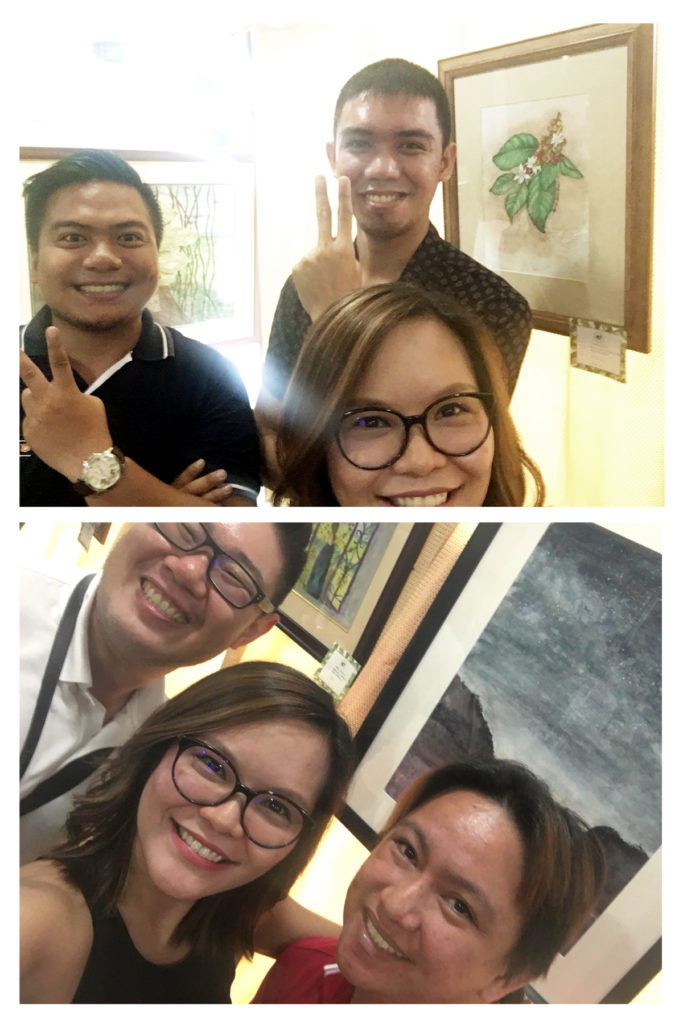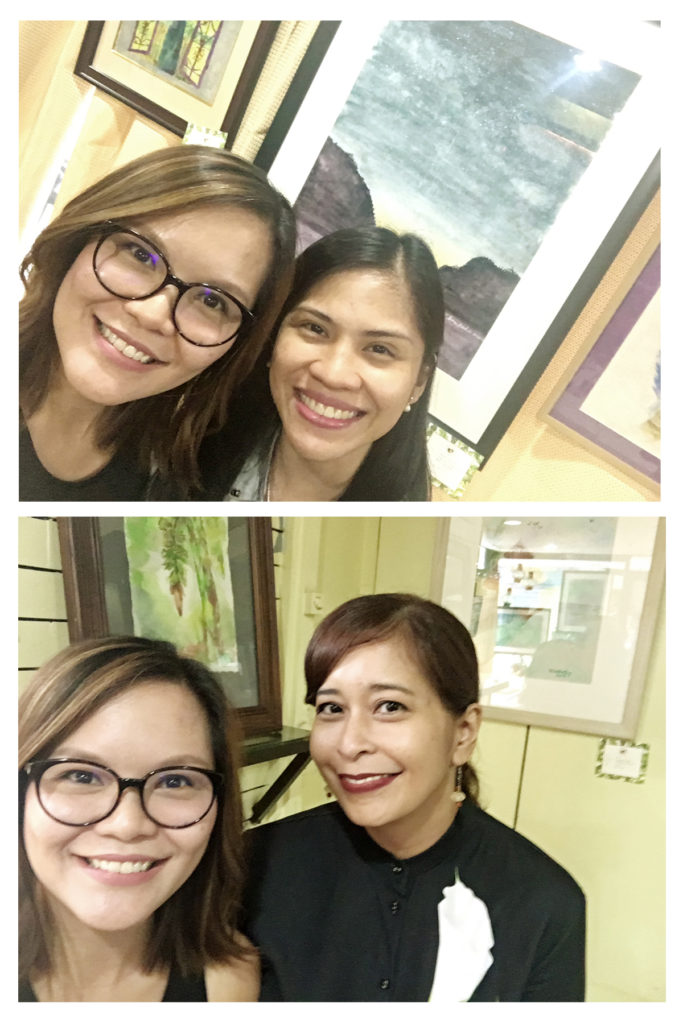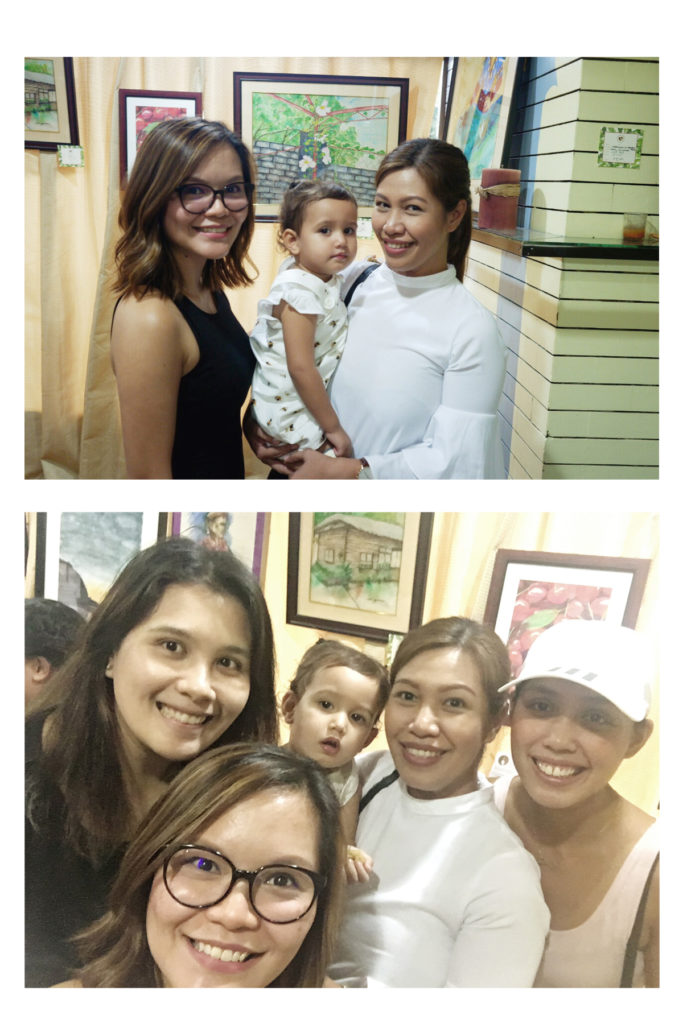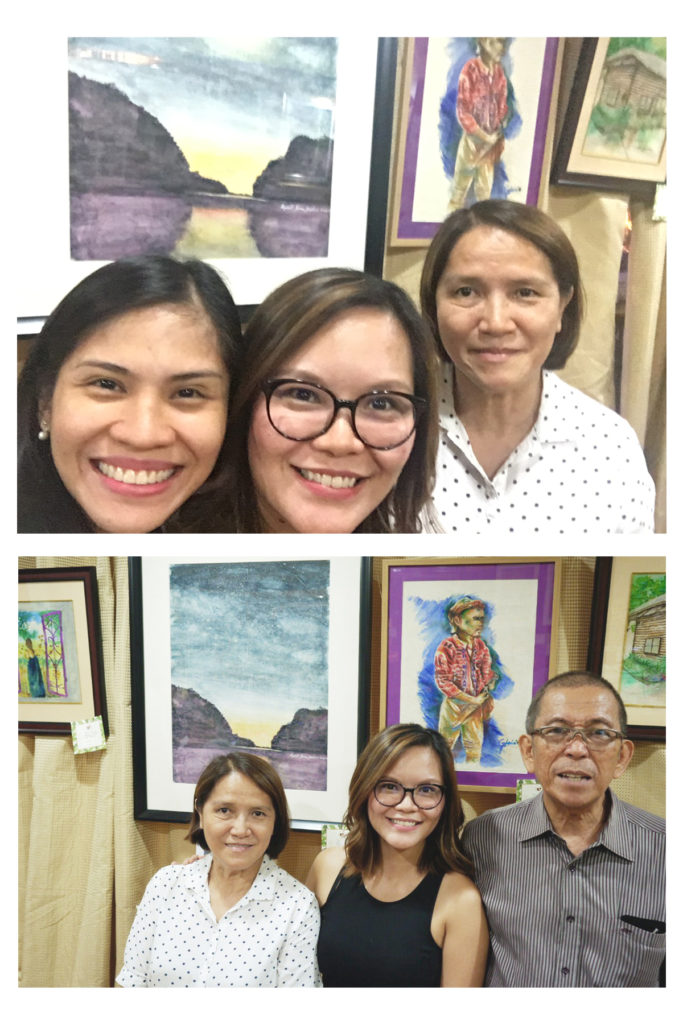 Didn't think Mama could make it because she had to do tons of things. But she made it, yay!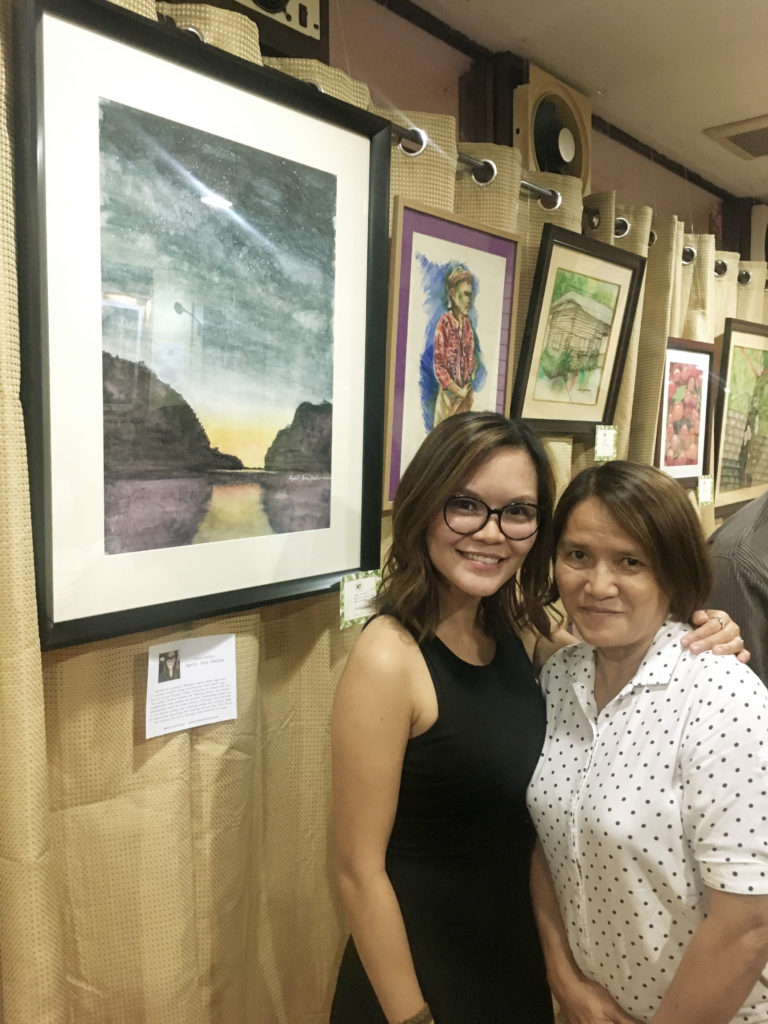 And so… my very first watercolour art exhibit was such a wonderful experience.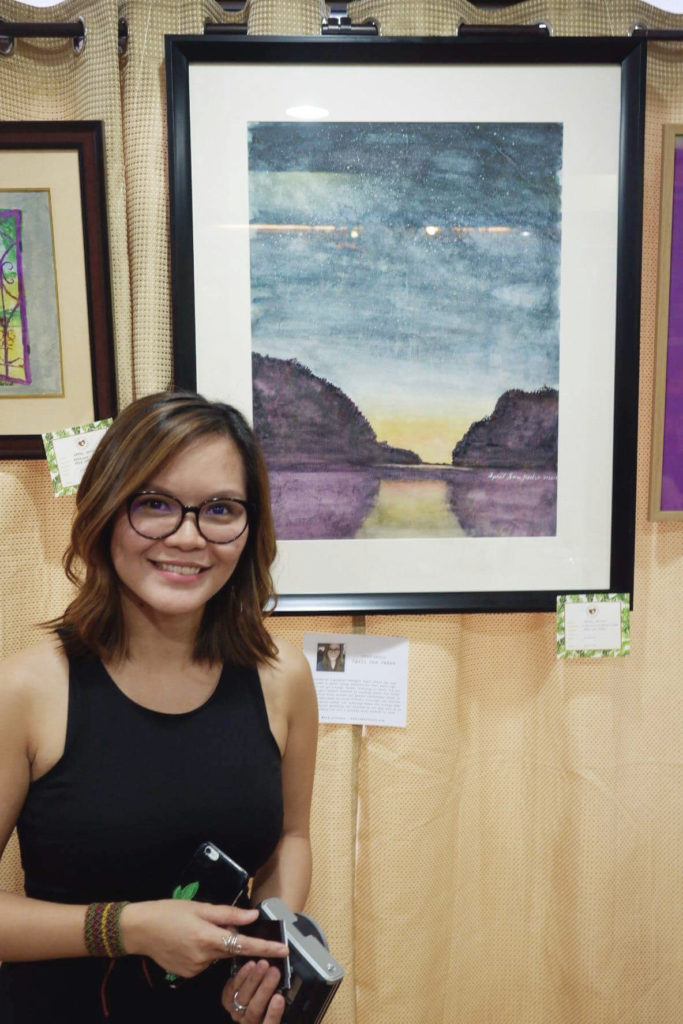 It's been 2 years and I already missed a lot of exhibit opportunities but I'm hopeful before this year ends, I will be able to finish one big painting so I'm an art exhibit ready.