I'm starting a new journal notebook. My third volume. This time, I'm solely dedicating it to my little chubster.
I'm not really into scrapbooking before but I get to learn and earn from digital scrapbooking. That's when I started my creative studio, Artisan Paperie, which was called Tala-larawan (filipino term for photo) when I started.
Anyway, things have evolved if I may say, even in the crafting world. The very popular scrapbooking is still quite popular. But like I said, it has evolved. There's project life and journaling in different terms such as travel, bullet, mixed media, etc. . I never get to do project life but journaling is something I enjoy. My way of scrapbooking.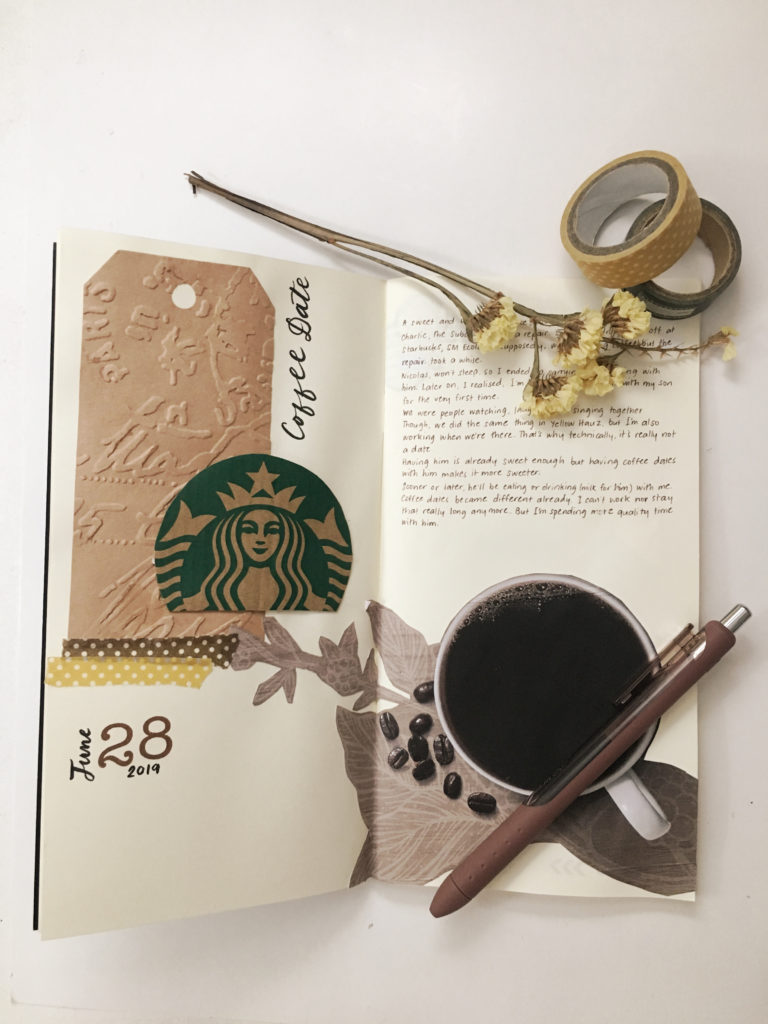 While I was pregnant, a friend of Wacky's gifted me a traveler's notebook called The Draft, a local company I believe. And I only get to use it now. Thought, it would be nice if I have a separate journal notebook for my son.
This spread was a junk journal or jujo. So, my materials were very simple. If you're new to this… it is when you use junk or scrap materials such as newspaper or magazine clippings, tissue, brochures, dried leaf or flower, paper clips or anything that is recycled. Read a better description of it from Art Journalist.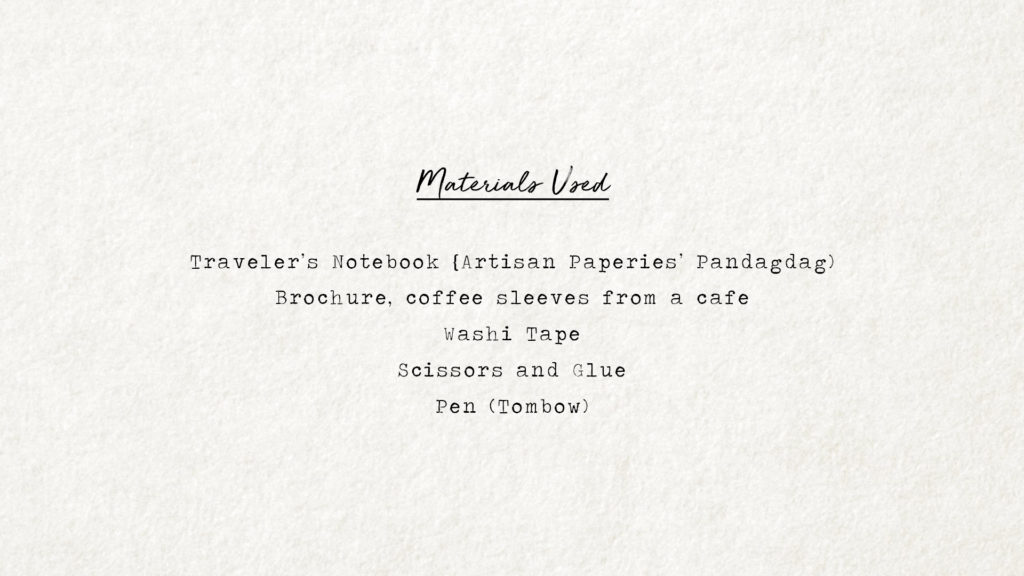 Let me share a video on how I created this journal spread which I called Coffee Date.
I love how simple and quick this spread turned out. Using few items gives you less options thus making it less complicated while decorating it. Here's the journal page without my thoughts on it yet.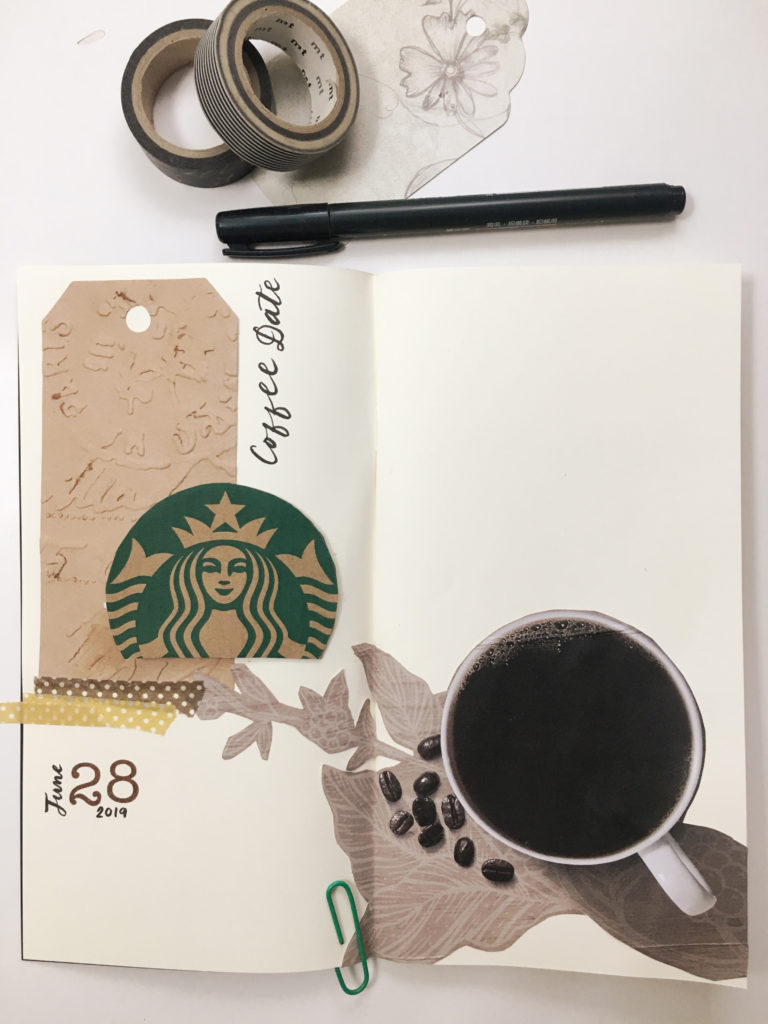 Tips if you're planning to do a junk journal
• Collect items or cut-outs that is relevant to a memory. This way, it's easier to journal about it. Though, when you see something that interests you, that will always become handy later on.
• Layout your page first before gluing them. Otherwise, it will take longer to finish your spread or you'll end up damaging your notebook's page. It doesn't have to be the final layout but this will give you an idea where your page is going.
• KISS. Remember before when we use to write on Autograph (if you're a 90's kid, you definitely know this, lol!) It means "Keep It Simple and Sweet." Call me old school but this still applies so much until now.
• Just pick few materials and tools in your stash. Don't get all of them at once. Like I said, lesser option makes it less complicated. There's no need to use all those stamps, washi tapes and no need to apply all the techniques you know.
• If you're connecting the two pages, try to fold the notebook before gluing it. This will ensure that the notebook and your cut-out is well placed even when folded.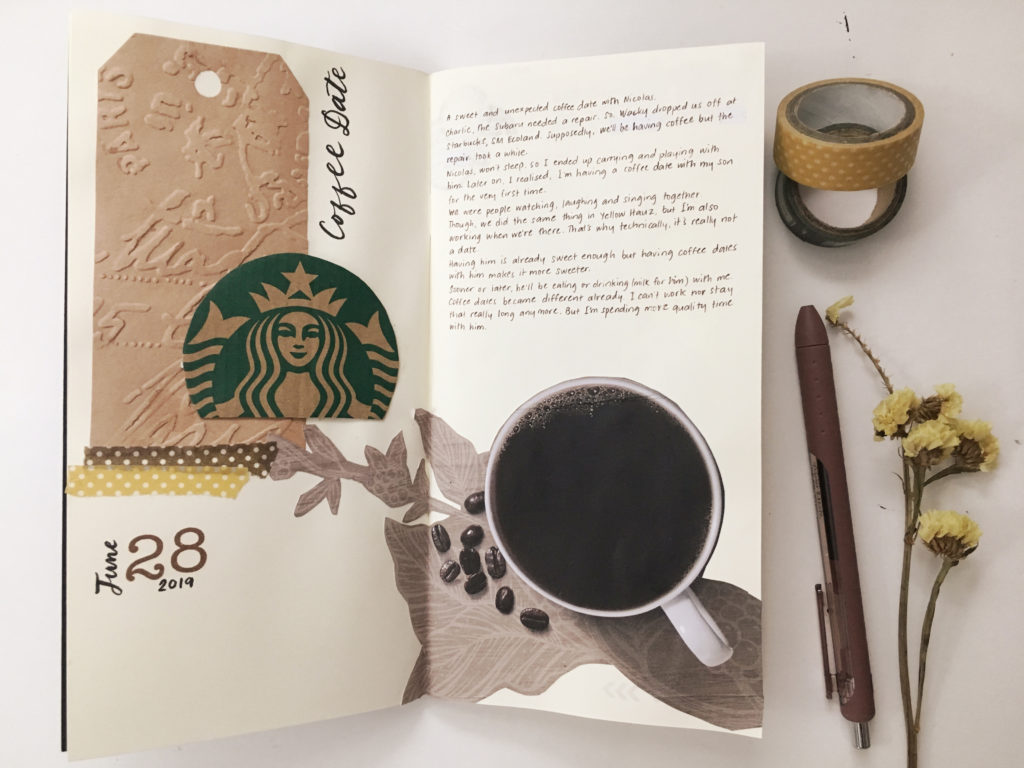 This journal spread was really a sweet memory of that first unintentional coffee date I had with my son, Nicolas.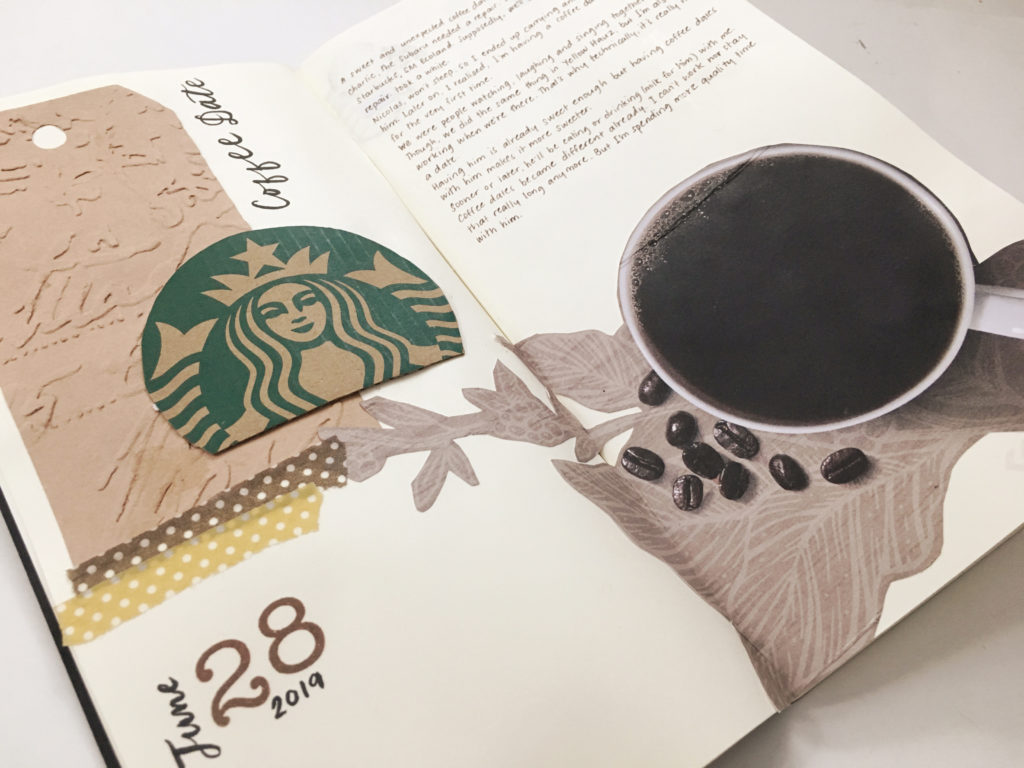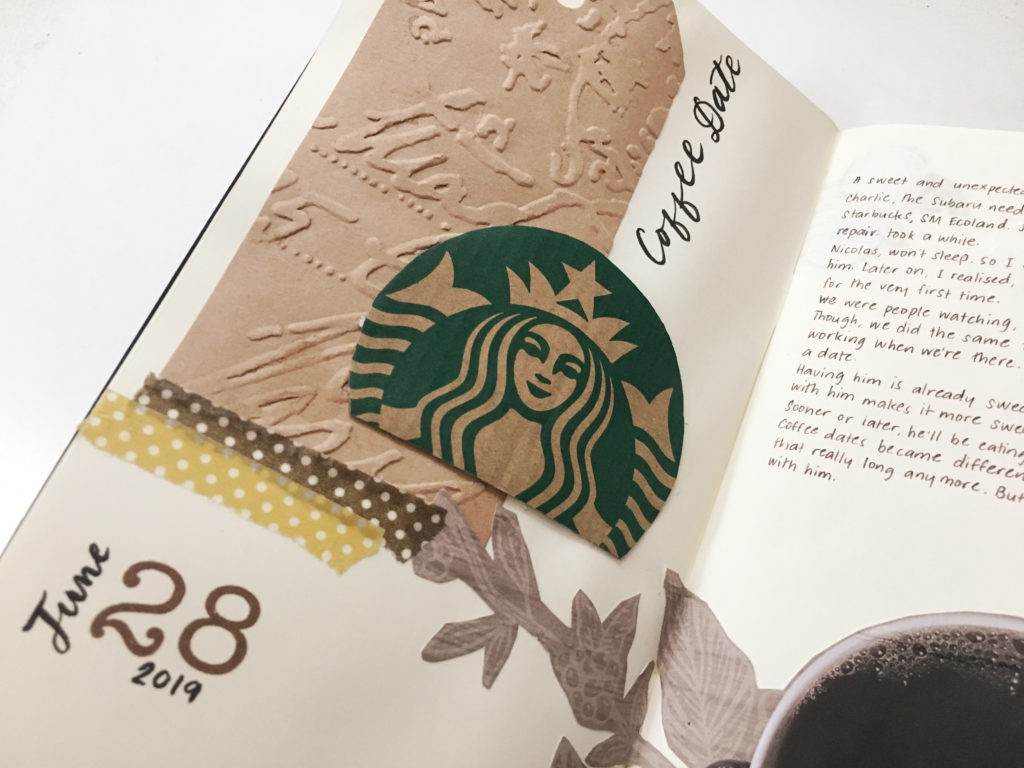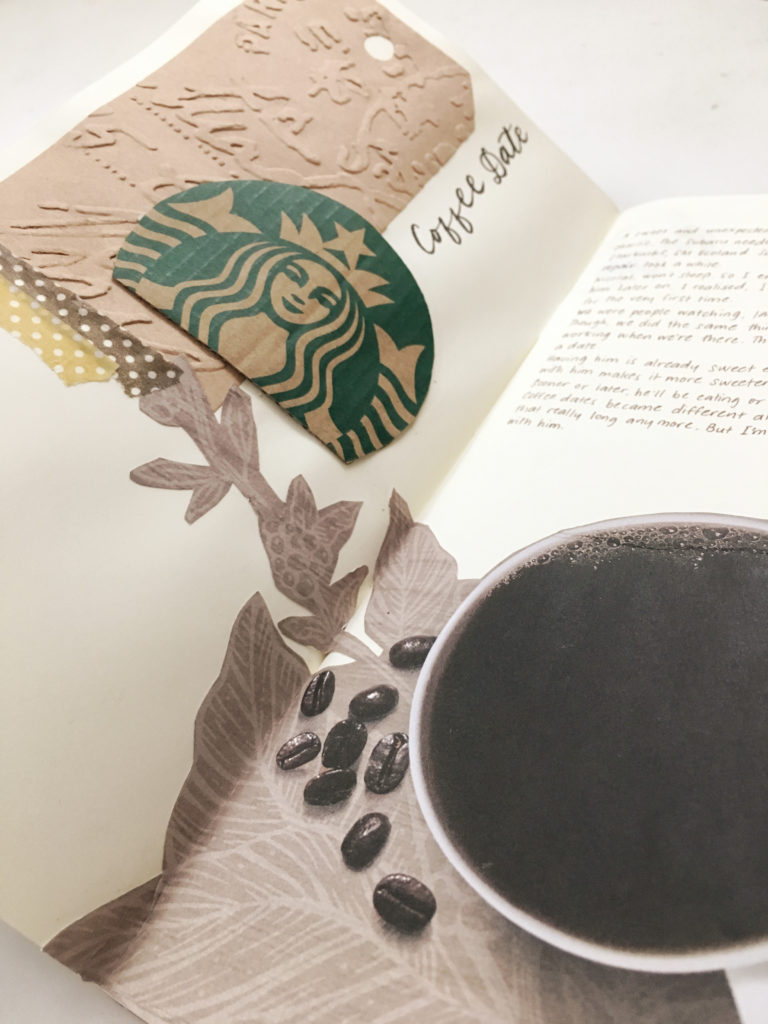 Here's another reason why it became sweeter. While I was taking a photo of this, I was looking for something to hold the pages when Wacky suggested a DIY paper weight… my son, lol.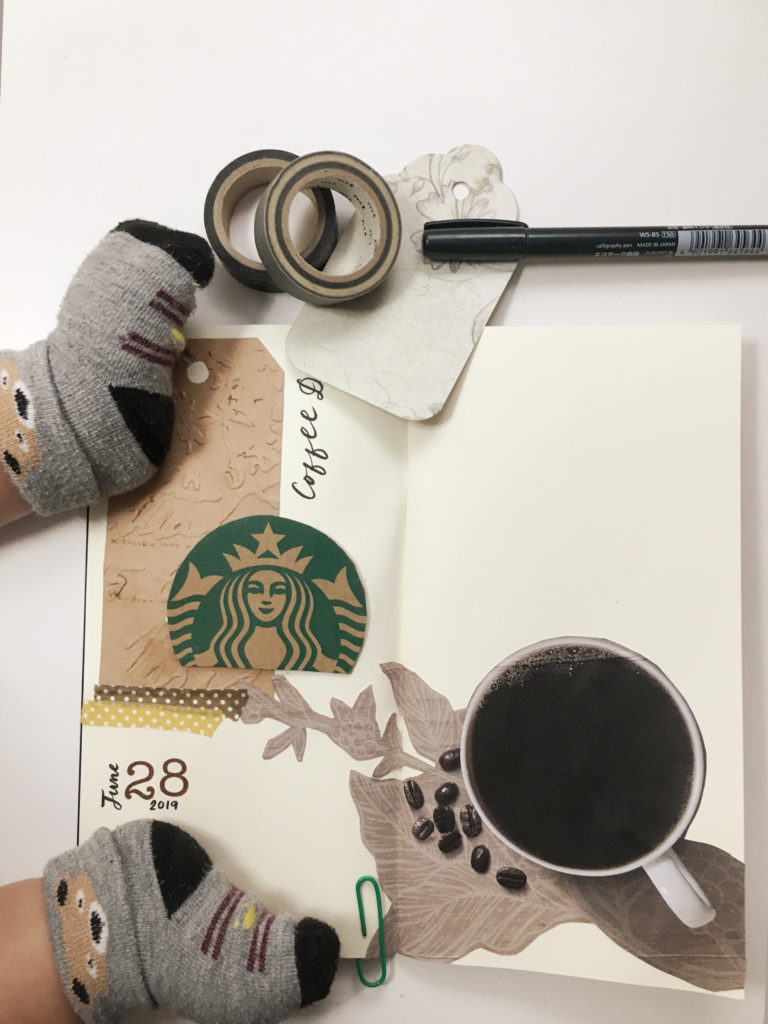 We couldn't decide which one is better, his feet or hand, lol.
Journaling is really a great way to keep those memories alive.
Behind the scene with my son who has no idea why his parents were laughing so hard while we're doing this, hahaha. Having a baby while crafting is so fun. Well, at least to me. But we'll get to laugh about this when his older.
I have been sharing my journaling process on YouTube channel in case you want to more ideas what you can journal about. You may also check my previous journals here.
If you've been journaling already, what inspires you to do so? Or what are mostly your subjects? I see some people journal about their playlists, the food they've tried or some does it daily.
Regardless what interests you in journaling. Would love to know more if you're into it. Or if you haven't tried it yet, I hope this will inspire you.