Oh, hello there! How I missed you. It's been a while since I last posted here.
I've been neglecting my blog already. Truth be told, it's just so hard keeping up with all my socials nowadays. Aside from the limited time I have, I've been focusing more on my YouTube channel: April San Pedro rather than blogging.
But blogging is my first love. And I just miss writing about personal things aside from sharing my creative process. I actually miss my Instagram Sundays too (oh, golly! September last year was my last entry!) So, here I am, checking in again. And perhaps a round-up of that too.
Where should we start? A lot has happened since then. Maybe, I will just go with the highlights as far as I can remember. Here they are…
I get to be part of this year's Kadayawan Museonline Digital Week. This is my second exhibit and first online kind. For this event, I painted a mini-series of Davao flowers: Waling-waling, Dendrobium and Phalaenopsis.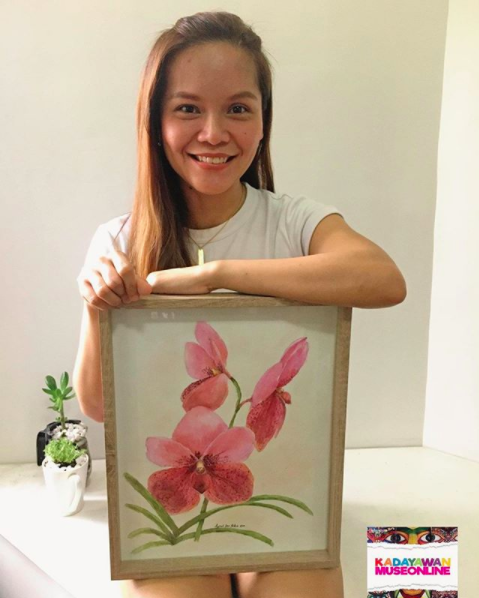 Then, I get to do my very first online workshop. I did a private Brush Lettering workshop via Zoom. A friend of mine, Melen, requested if she and her daughter can learn how to do brush lettering and so I took this opportunity to learn how to do this online. I sent her their kits (which is one of my favourite parts of the workshop). Then we had 4 weekend sessions.
Online workshop has it's different vibe too. It's challenging not to see check the the participants' works but it worked out. I can only imagine the online schooling right now.
• Studio Vlog 29: How I prepare for online brush lettering workshop
And one of my fave highlights is my new product in the shop – stickers! You see, I've been designing stationery for years now but I still get so excited whenever I venture into new designs. In this case, stickers.
I've been making stickers when I was still in college but those were more of bookplates and labels. Plus, I was just using cliparts during that time (I didn't know better).
So, just last October, I finally created my very own stickers! I was quite a lot of work because I finally able to use the Silhouette Cameo I had for years now and it wasn't easy as I thought. But the moment, I figured it out, all ideas were just flowing in.
I started with my watercolor flowers, I painted years ago. And if you remember my painting videos those are the flowers I used as one of my sticker collections.
Here are the videos of those flowers Painting Playlist.
Those are just some of the highlights. Well, the art related ones. And in case you want to check my online shop, here it is shopee.ph/artisanpaperie. It's for Philippine residents only for now. Although, I'm thinking of reopening my Etsy shop too. But if you're interested, just let me know and email me at helloartisanpaperie@gmail.com.
Enough about art! How are you doing, so far? In my end, I've been having high and low emotional turmoil. One day, I'm feeling great. The next day or week, I'm low, anxious, and unmotivated. Luckily, my son is really keeping me busy. Instead of focusing on my low side, I need to be strong and steady.
Here are the things I like doing when I'm feeling low: (1) I paint. I do art journal or journaling or documenting my highlights. (2) Writing is also my way of coping up. I write my thoughts in a journal. It helps me release those thoughts I need to get rid of. (3) Listening to podcasts. My go-to is Joel Osteen. He always knows what to say. Or perhaps, this is God's way of letting me hear what I needed to hear. (4) Workout. I do yoga and HIIT. I wanted to go back to boxing, but I'm just too scared to be so closed with anyone aside from my family for now.
Reading a book is something I want to get back to. Nowadays, I have to be smart in using my free time. I must let go of one from my fave thing to-do list so I can try another one. But as long as I'm moving, I'm good with it. I have learned to accept the idea that I cannot do everything now unlike before.
How about you? What's keeping you busy or sane? Let's catch up! Would love to hear from you too.